Use Acuity to book classes, collect payments, sell appointment packages, and more. While every fitness studio is different, this guide explains Acuity features many yoga and Pilates practitioners find helpful.
Tip: If you get started and decide you want more hands-on help setting up Acuity Scheduling for your business, you can hire a vetted expert.
Create classes
With Acuity, you can create group classes and add appointments for one-on-one services you offer. In addition to basic information like appointment durations and prices, add images and descriptions to highlight what sets you apart from the competition.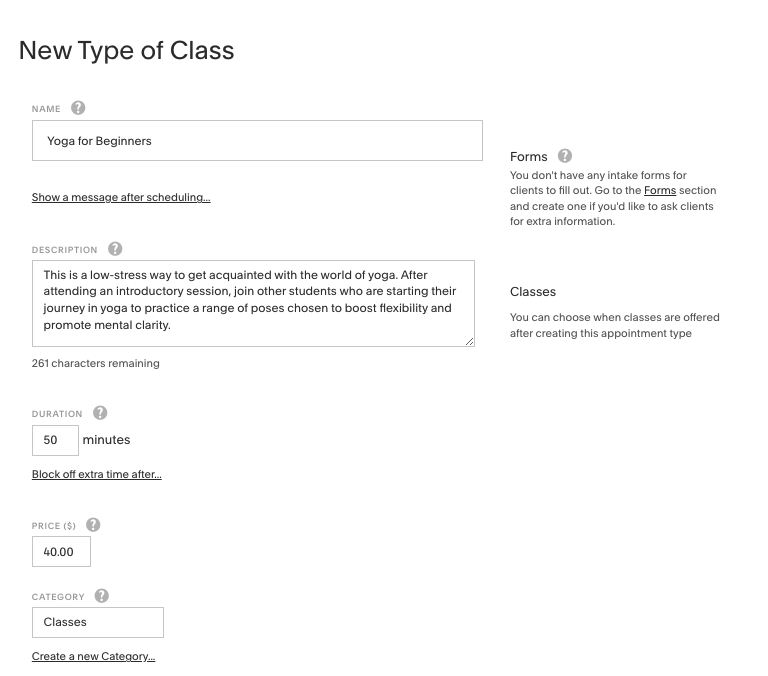 Add staff
Add your staff members as contributors so they can access and manage client records and classes. Customize which calendars they can access to keep everybody organized.
Create a calendar for each teacher so clients can choose between them during booking. Include pictures to help them remember who's who. Teachers can sync their Acuity calendars with their personal calendars on Google, iCloud, or Outlook.
Get paid
Collect payment as clients book online by integrating with a payment processor. In addition to class or appointment fees, you can accept tips or let clients choose what they're able to pay.
Go virtual
Integrate with virtual meeting providers like Zoom and GoToMeeting to teach remotely. Send your clients automated reminders that include links to the class video meeting.
Add social media
Use your carefully crafted online presence to drive bookings by connecting Acuity to Facebook and Instagram. Your followers can book by clicking on your profile, without ever leaving social media.
Offer discounts to regular clients
Charge your regulars less with appointment packages. When clients buy a package, they get a code they can redeem for a number of appointments or classes, typically for a discount. Packages ensure predictable revenue and encourage repeat business.
Combine Acuity with other digital tools
Acuity integrates seamlessly with Squarespace websites, though you can also embed your scheduler on any website or use Acuity without a website.
If you have a Squarespace website, you can generate revenue by selling access to content like videos or community pages with member areas. You can also add Squarespace's email campaigns feature to send on-brand marketing emails and community updates to your clients directly from your site.
Get started with Acuity
The best way to get to know Acuity is to start a free trial. Visit Getting started with Acuity to learn more about starting your trial and setting up Acuity.